Pictures and Video in and around Laguna Beach, California, Circa 1980-86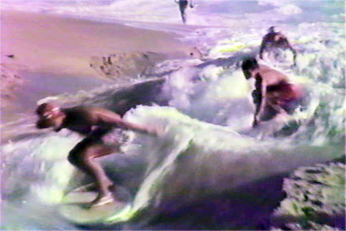 Video of Skimboarding and the 10th Annual Victoria Skimboard Contest, Aliso State Beach, California, August, 1986
Click to download. These are large files, be patient to download.
Skimboarding Aliso Beach, 1487 Megs
Cutting Aliso Creek, 744 Megs
Victoria Skimboard Contest, Heat 6, 214 Megs
Victoria Skimboard Contest, Heat 7, 272 Megs
Victoria Skimboard Contest, 11 and Under, 321 Megs
Victoria Skimboard Contest, 14 and Under, 196 Megs
Victoria Skimboard Contest, Women, 221 Megs
Victoria Skimboard Contest, Heat 1, 20 to 24, 273 Megs
Victoria Skimboard Contest, Heat 2, 20 to 24, 287 Megs
Victoria Skimboard Contest, Heat 3, 20 to 24, 206 Megs
Victoria Skimboard Contest, Heat 4, 20 to 24, 241 Megs
Victoria Skimboard Contest, Heat 5, 20 to 24, 142 Megs
Victoria Skimboard Contest, Heat 6, 20 to 24, 205 Megs
Victoria Skimboard Contest, Heat 7, 20 to 24, 148 Megs
Victoria Skimboard Contest, Heat 1, 25 and Up, 198 Megs
Victoria Skimboard Contest, Heat 2, 25 and Up, 150 Megs
Victoria Skimboard Contest, Heat 3, 25 and Up, 231 Megs
Victoria Skimboard Contest, Semi-Finals, Heat 2, 20 to 24, 200 Megs
Victoria Skimboard Contest, Semi-Finals, Heat 3, 20 to 24, 120 Megs
Victoria Skimboard Contest, Semi-Finals, Heat 4, 20 to 24, 192 Megs
Victoria Skimboard Contest, Semi-Finals, Heat 1-3, 20 to 24, 53 Megs
Victoria Skimboard Contest, Day 2 and Awards, 574 Megs

---
California Christmas Sunset form North Laguna Circa 1980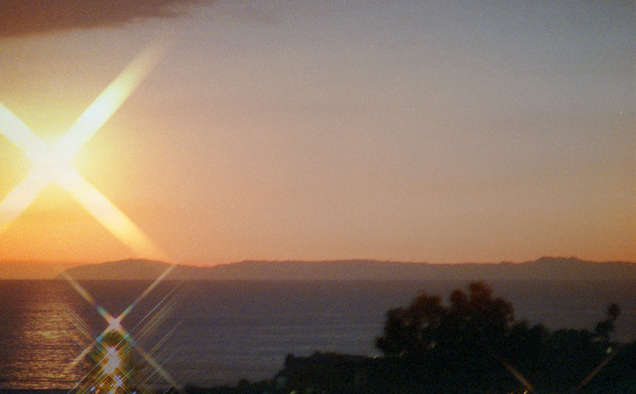 Here I am standing above the North end of Laguna Beach.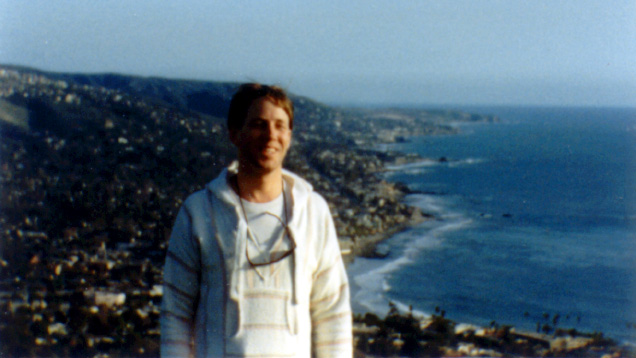 ---
Crescent Bay from Vista Point. South Laguna in the near distance and Dana Point in the far distance. San Juan Capistrano is over the high ridge (800 feet high) in the center of the picture. This bay has some of the best body surfing I ever experienced. Notice the almost perfectly formed crescent-shaped shore break.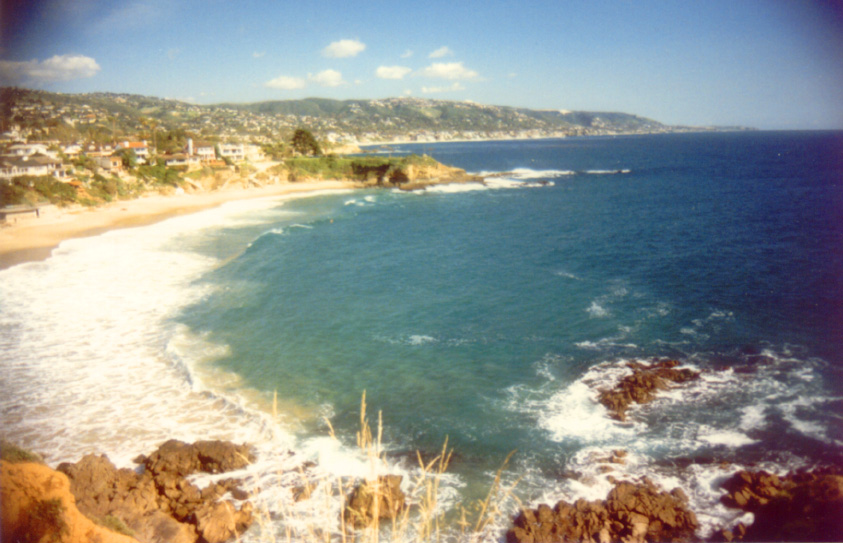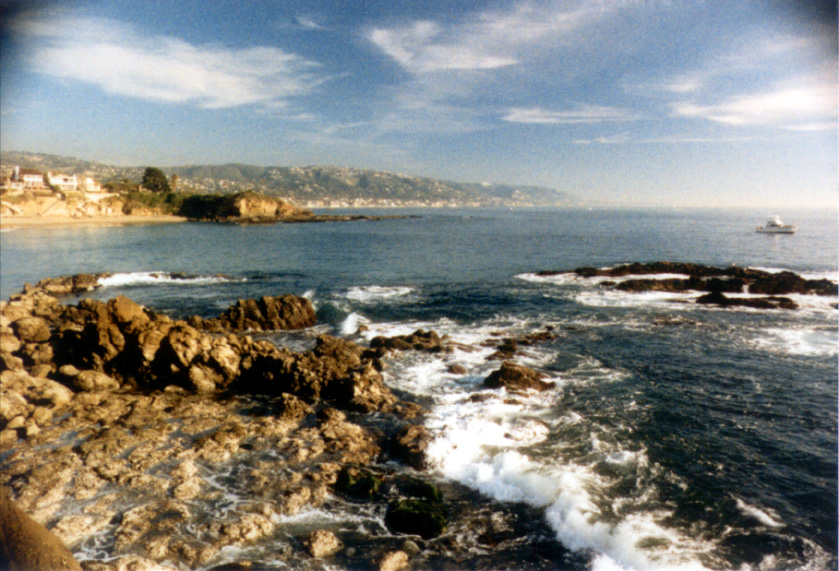 ---
Seal Rock, wide angle from Vista Point. This is the view looking south of the picture above, just turn to the right to see this, turn left and see for the view above. Notice the large wave (about 8 feet) breaking in the rock pile.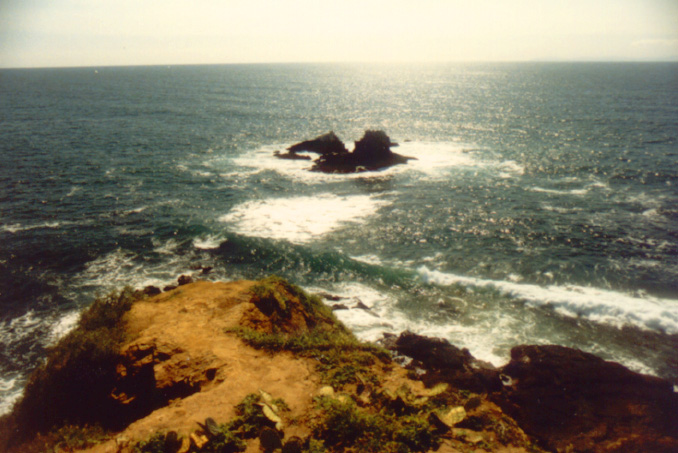 ---
Telescopic view of Seal rock between Crescent Bay and Emerald Bay. Notice the Gull guano cap on the rocks.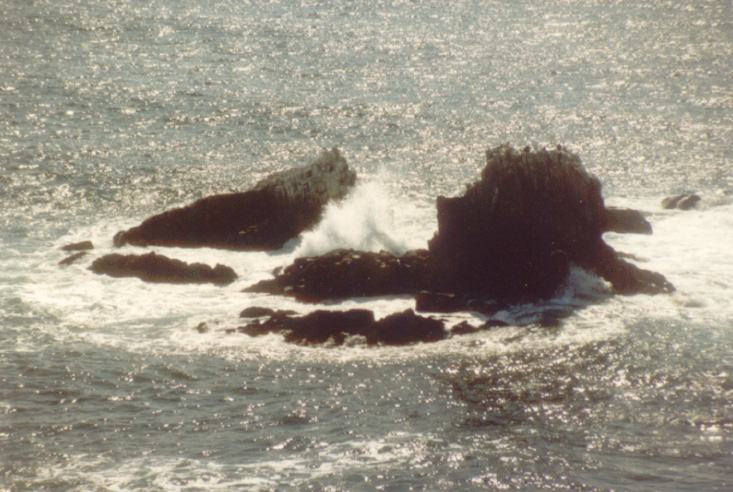 ---
Notice the Bull Seal.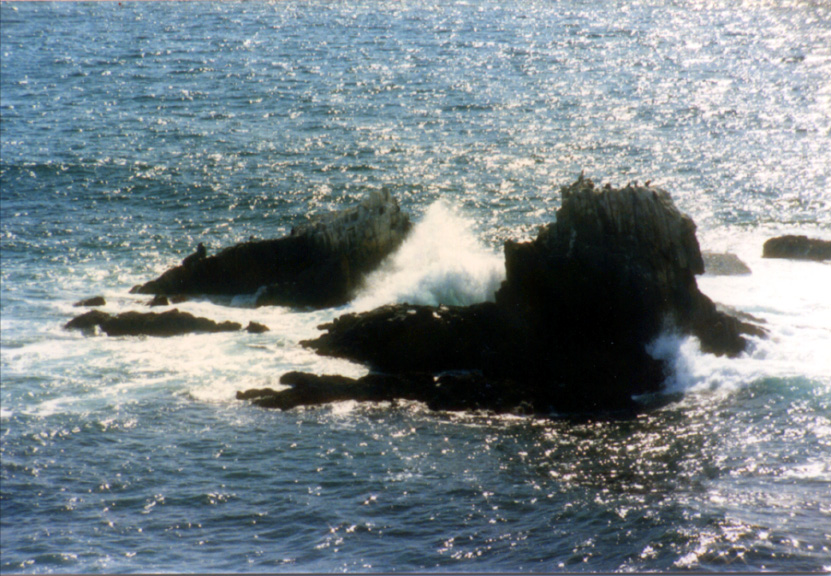 ---
Splash in front of Seal Rock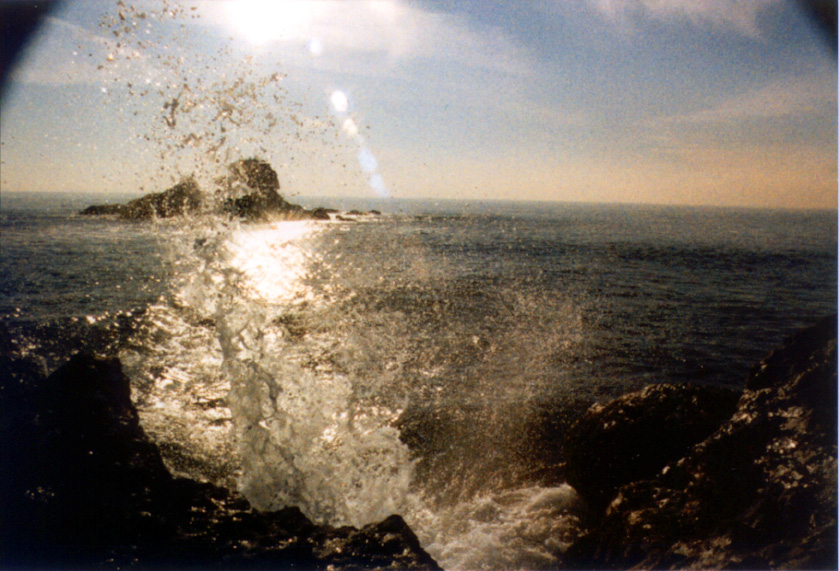 ---
Tide Pool.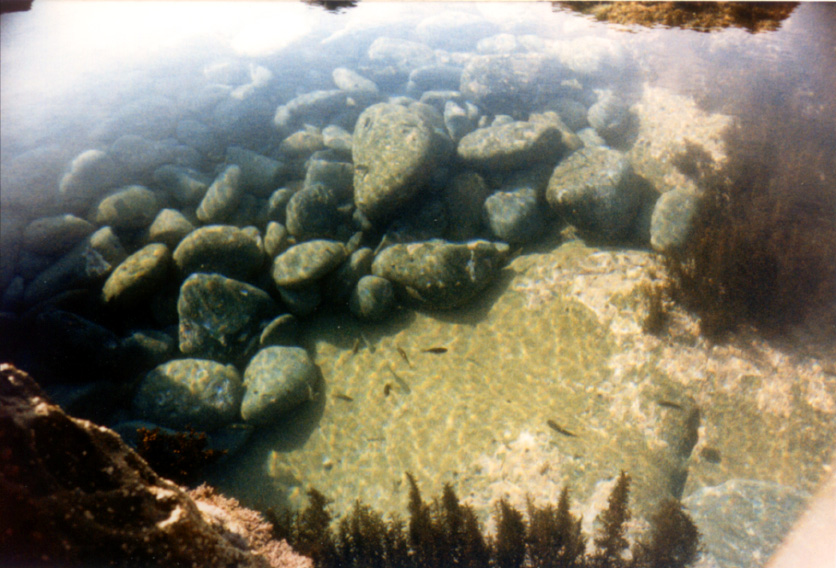 ---
View of Emerald Bay.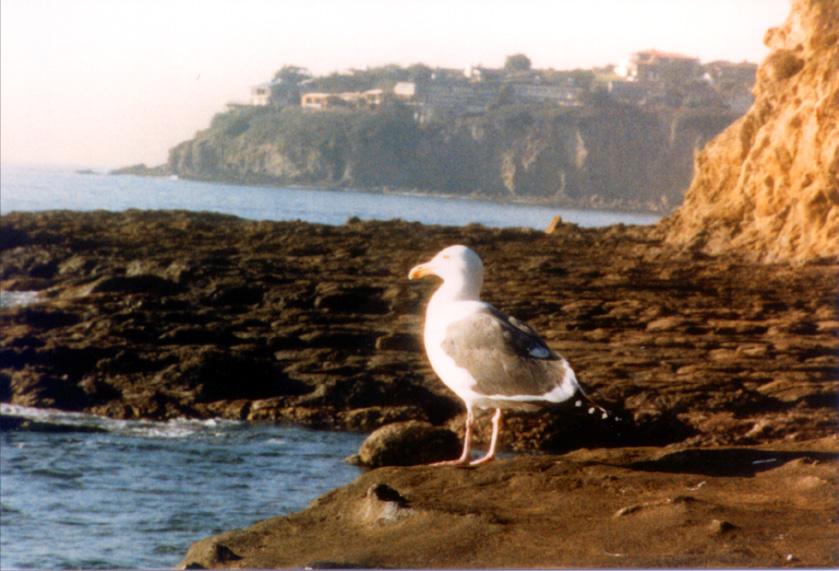 ---
Sunset above Crescent Bay during Christmas. Catalina Island in the distance.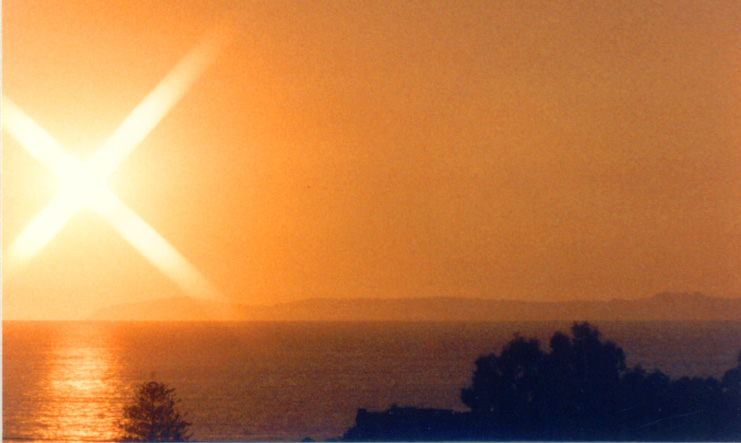 ---
Catalina Sunset.

---
Jay on his Skimboard at Crescent Bay, Laguna Beach

---
Beveled Glass window I helped to create in Laguna Beach at Kyles home.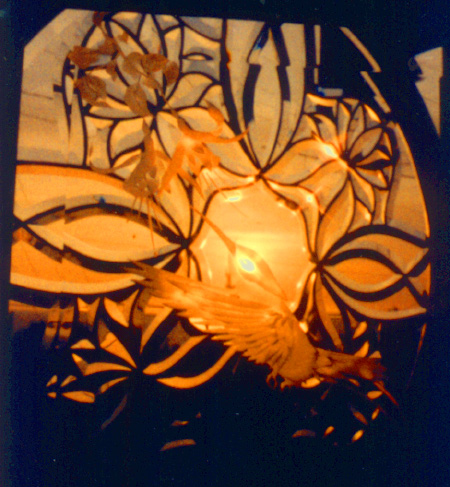 ---
Main Beach. Catalina Island in the distance.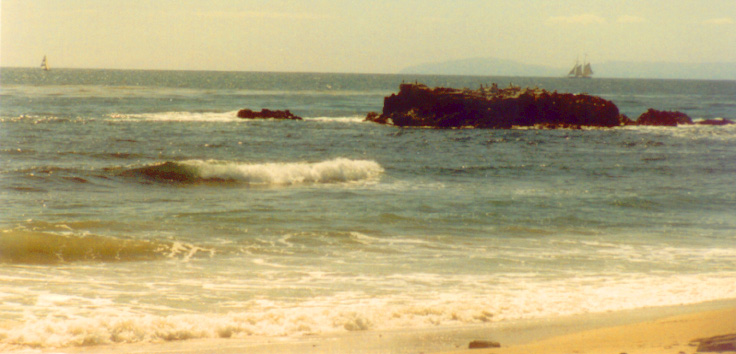 ---
Girls at Aliso Beach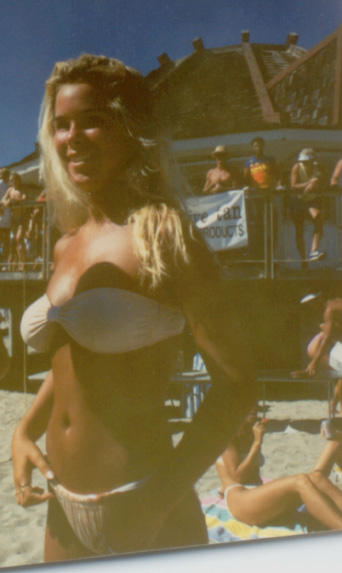 ---
Flowering Vines on Crescent Bay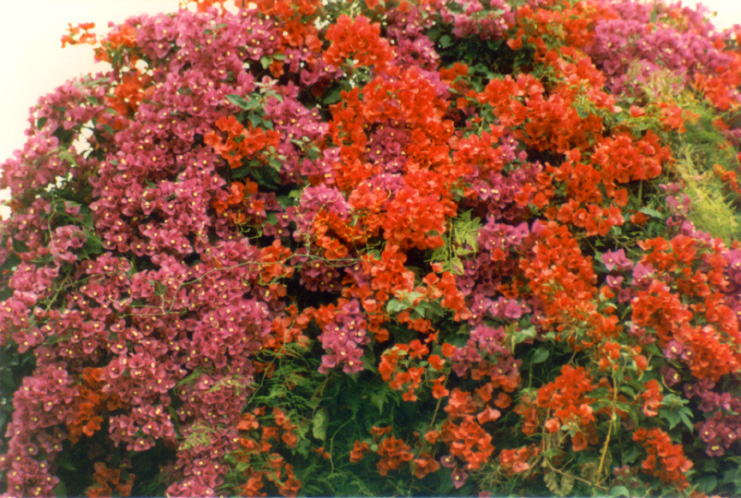 ---
Ticket from a great concert.